Drum Journey is an iPhone app that plays pre-recorded drumming tracks to accompany shamanic journeying. Features include flexible journey duration, choice of drumming styles (single, double and relay), and callback option. Additional drum and rattle sounds add depth to the recorded tracks. Traveling without your drum? Make your own journey rhythm with the rattle and drum tabs.
No fumbling for buttons; a simple shake stops your journey.
The adjustable timer allows journeys from 5 minutes to 2 hours, or select "Continuous" for the most flexible journey time.
Callback duration is automatically set to 20% of actual journey time, even if you end your journey early.
Note: This app does not teach shamanic journey practices. See our Books & Teachers page for links to shamanic educators and practitioners.
On the Timer tab, setup your journey and tap start.
Options include Single Drumming, Double Drumming, and Relay Drumming.
If you choose a Continuous journey, the journey will continue until you end it. Note that you can have a Callback at the end of a continuous journey, Drum Journey calculates an appropriate duration.
Drum tab
Tap to play a frame drum beat. Play by themselves to create your own journey, or along with a timed journey.
A rattle is included, too.
In version 1.2, you can see and be seen: share your journey location anonymously with other Drum Journey users, and see others.
The options tab let's you adjust the sounds and tempo of the drumming. Also new in version 1.2: import your existing drumming tracks from your iPod library.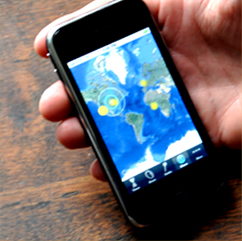 Drum Journey users share their journeys on a world map.